Vintage parts, accessories, and collectibles for the automotive enthusiast.
Home Body Panels $pecials Ordering Info. Rare Parts
Body Panels
If you're looking for reasonably priced auto body repair panels for your classic, you've come to the right place. Black Car has thousands of body panels in stock for 1950's to mid-1980's cars and trucks. We have one of the largest obsolete body panel inventories in the country. Many of the panels were discontinued being manufactured years ago, therefore many of these panels cannot be replaced. Please note - some of these panels do show there age with some minor surface rust, but don't be discouraged these panels are solid and will save you dollars in the long run.
We've included photos on our web site to show you some of the different types of panels in our inventory. Not all panels are shown or listed on the website, so ask anyway. If we don't have it we may be able to find it. But if we do have it and you're serious about buying it, we will even take pictures of the actual panel(s) your interested in so you can see what your buying before you pay for it.
Click on the links below to check out what body panels we have for the various makes.
Rocker Panels - We have thousands of 2 door and 4 door rocker panels covering vehicles from the late 1950's to the mid 1980's.

1956 & 1957 Chevy 2dr Rocker Panel

1958 to 1960 Ford Thunderbird 2-door Extended Length Rocker Panel
1955 & 1956 Plymouth / Dodge 4-door Rocker Panels
Door Skins (1950's Only) - Full-size outer skins in stock for GM, Ford, and Chrysler makes. A variety of 2-door and 4-door skins available.
1957-1959 Chrysler - Dodge - Desoto 2 Dr Drivers Side Door Skin
Headlight Caps - Hundreds in stock for GM, Ford, and Chrysler makes from the 1950's and 1960's.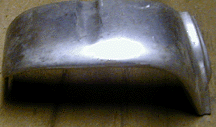 1959 Ford Headlight Panel Top Section
Rear Fender Panels - Sections for behind the rear wheel, in front of the rear wheel, and sections that let you finish off the entire side of the rear quarter.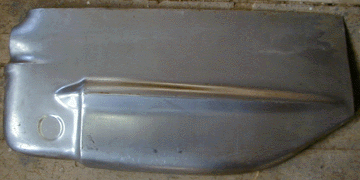 1958 Chevy Rear Fender Panel
Front Fender Panels - We have both front and rear sections of the front fender for cars and trucks. Huge Selection!
1957 Ford Front Section of Front Fender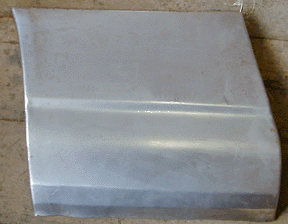 1972 -1980 Camaro & Firebird Lower Rear Fender Tip
Over the Wheel Sections - Great for patching those rust spots over the rear wheel well.

1953 & 1954 Plymouth Over Rear Wheel Section
Truck Cab Corners - Limited selection!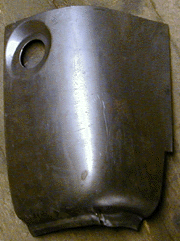 1960 - 1967 Ford Econoline Cab Corner
Dog Legs - This panel is primarily for 4-door cars and is located between the rear door and in front of the rear wheel opening. Huge selection for 1950's and 1960's cars!
1960 Ford Dog Leg (outside section)
E-mail:
Copyright © 2000-2011 Black Car L.L.C.